Ken Shamrock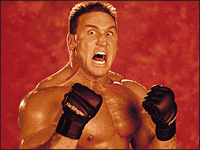 Ken Shamrock is recognized as one of MMAís founding fathers. Ken dominated the early days of the sport from the early 90ís to 1996, earning the nickname "World's Most Dangerous Man." Then he took a long leave of absence to pursue a career as a professional wrestler, before returning to MMA competition at the PRIDE Grand Prix Finals. Hereís whatís on his mind.


ANTI-SHERDOG: Ken, Who of these women is the hottest? Brittany Spears, Christina Aguilera, Pam Anderson or Jennifer Lopez?

Ken: Pam Anderson. Iíve seen her in action in that video. Sheís proven.

ANTI-SHERDOG: How do you like your women down below? Hitler stash or completely shaven?

Ken: Hitler stash. I like a little something to nibble on.

ANTI-SHERDOG: The best thing about being a famous MMA fighter. The money, sex or fame?

Ken: All the above.

ANTI-SHERDOG: You can only pick one.

Ken: Money then. Because you can get the other two with $$.

ANTI-SHERDOG: Whatís the most important on a woman. Perfect ass? Perfect Breasts or perfect face?

Ken: By far a perfect ass!

ANTI-SHERDOG: Best after fight parties. Japan, USA, Holland or Brazil?

Ken: United States.

ANTI-SHERDOG: Why?

Ken: Because I can speak the language.

ANTI-SHERDOG: Weed or alcohol?

Ken: Weed.

ANTI-SHERDOG: Anal sex for it or against it?

Ken: Iím not a big fan of it. I guess I donít mind doing it, I just donít like the mess.

ANTI-SHERDOG: How old were you the first time you had sex with a girl?

Ken: Where I came?

ANTI-SHERDOG: Uhhh..yeah.

Ken: I was thirteen.

ANTI-SHERDOG:Your dream car?

Ken: Ferrari.

ANTI-SHERDOG: Who would you rather date, a hot ass stripper or a hot ass secretary?

Ken: Definitely a hot ass stripper, no question.