Kevin "The Monster" Randleman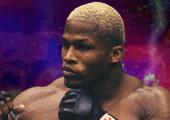 Kevin Randleman is a fantastic wrestler and fierce competitor in MMA. A top member of Mark Colemanís Hammer House, Randleman has a storied wrestling career that includes an NCAA tournament championship, which he won from beginning to end with a broken jaw. He has captured the UFC Heavyweight championship and is currently a hot prospect at PRIDE. Hereís what he thinks.


ANTI-SHERDOG: Kevin, Who of these women is the hottest? Brittany Spears, Christina Aguilera, Pam Anderson or Jennifer Lopez?

Kevin: Jennifer Lopez, no question.

ANTI-SHERDOG: How do you like your women down below? Hitler stash or completely shaven?

Kevin: Iím married, so on my wife I like to shave her. Sometimes Iíll let the hair grow out a little just so we can do our thing. Itís kind of one of our special intimate things ya know?

ANTI-SHERDOG: The best thing about being a famous MMA fighter. The money, sex or fame?

Kevin: Got a women so thatís out. The fans are great but the money is why I do it. Itís great being a showman though. If I can only pick one, then itís the money.

ANTI-SHERDOG: Whatís the most important on a woman. Perfect ass? Perfect Breasts or perfect face?

Kevin: You can buy tits, but if your woman donít have an ass, she donít got an ass. Girls gotta have an ass!

ANTI-SHERDOG: So the face and tits arenít important?

Kevin: If the womanís got a beautiful face a nice pair of tits and an ass. Damn! Thatís my kind of woman. When it comes right down to it tho, Iím all about the ass.

ANTI-SHERDOG: Best after fight parties. Japan, USA, Holland or Brazil?

Kevin: Never been to Holland but I hear itís great. Brazil is good. All the women there have great asses! Iím all about the ass remember? Japan is OK but Iíll have to go with the USA. I speak the language.

ANTI-SHERDOG: Weed or alcohol?

Kevin: Iíd rather smoke a fat one. I think they should legalize it man. You donít see people getting crazy and shooting at people on weed. All ya want to do is hang out and shave your wifeís coochie!

ANTI-SHERDOG: Anal sex for it or against it?

Kevin: I like it! With a woman right?

ANTI-SHERDOG: Yes!

Kevin: Then Iím all for it!

ANTI-SHERDOG: How old were you the first time you had sex with a girl?

Kevin: I was ten years old.

ANTI-SHERDOG: No way!

Kevin: Yup I was ten and she was fifteen. We played hide and go get it.

ANTI-SHERDOG: Your dream car?

Kevin: Iím old schoolÖso a Cadillac!

ANTI-SHERDOG: If you were not married, who would you rather date, a hot ass stripper or a hot ass secretary?

Kevin: A hot ass secretary, because I donít date ignorant women. They gotta be a challenge outside and inside the bedroom. When Iím on the road I call my wife everyday for phone sex! I call her up and say ďbaby get out the bullet!Ē I get busy so much I donít even care if I make a mess on the phone!