MMA NEWS




Unlike most MMA websites I'm only interested in the most juicy MMA news.
So keep checking for any juicy news.

Thanks,
-The Anti-Sherdog


---


12-30-10



Bernard Hopkins: MMA IS GAY!
by Alco Howler



I just ran across this gem on YouTube. Legendary boxer Bernard "The Executioner" Hopkins was asked about MMA vs Boxing during a prefight interview before his match with Enrique Ornelas on 12/02/09. During the interview he referred to MMA as Gay Porn. Click the video below to hear more about what he had to say.





Among Hopkins many achievements: he was IBF Middleweight Champion from 1995-2005, became undisputed champion in 2001 by beating Felix Trinidad, and became the first to collect the 4 major belts (WBC, WBA, IBF, and WBO) with a KO win over Oscar De La Hoya, and made a record 20 successful defenses of the titles before losing for the first time in 12 years to Jermain Taylor. He was written off as a has-been afterwards but managed to score unlikely upsets over top level champions in Antonio Tarver, Kelly Pavlik, Winky Wright, and avenged an earlier defeat to Roy Jones Jr. He still remains an elite boxer today just shy of his 46th birthday, and was recently robbed of a history making title win against hometown hero Jean Pascal in Montreal, Canada. The victory would have made him the oldest world champion in boxing history, breaking George Foreman's record, a feat that is still possible.


---


05-15-10



Don King KO's MMA Card
by Alco Howler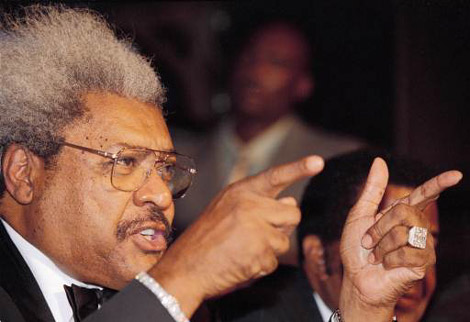 Legendary boxing promoter Don King dealt a blow to the world of Mixed Martial Arts and their declaration that they're replacing boxing as the premiere combat sport in the US. An MMA event today titled "Shine Fights 3" that was billed "When Worlds Collide" in Fayetteville, NC was cancelled after a court ruling in favor of King. The reason was boxer Ricardo Mayorga. Trying MMA after a standout boxing career, Mayorga was supposed to meet MMA star Din Thomas in the main event of the card. Mayorga, a former World Boxing Association and World Boxing Council champion fighting at welterweight to middleweight in his career, still was under contract with King venturing into the event. Shine Fights, which was promoting the proposed card at the Crown Center, contended that King's contract with Mayorga did not preclude his involvement in mixed martial arts.

Judge Marc H. Gold in Broward County, Fla., heard extensive testimony Friday and Saturday and ultimately disagreed with Shine. King argued that Mayorga owed him hundreds of thousands of dollars and would not be able to box if injured in MMA causing irreparable damages. Gold then ruled that Mayorga's participation was primarily because of his notoriety as a boxer and that it thus interfered in Don King Productions' exclusive boxing promotional contract with him. He granted an injunction in favor of Don King Productions on Saturday evening as the card at the Crown Center was about to start.

Judge Gold required King to post a $1 million cash bond in case Shine Fights were to win an appeal and can prove damages. This proved to be difficult as King literally had a matter of hours to post bond on a Saturday and all banks that could have helped him pull of such a huge transaction were closed. But King left the courtroom and returned less than two hours later with two duffel bags full of cold hard cash. "I felt like Clint Eastwood speeding down the highway with a fistful of dollars," the 78-year-old King said.

Gold's ruling wiped out the main event and although Shine Fights initially planned to proceed with the undercard and a new main event between Murilo "Ninja" Rua and David Heath, that soon unraveled, too. Frank Zaccaro, director of sales and marketing for the Crown Center, said a "comedy of errors" resulted in the entire card being canceled. The sanctioning body for the event, the North Carolina Boxing Commission, requires that a doctor be on site and that the fighters' purses be paid in advance. The boxing commission's prefight requirements weren't met, making it impossible to go forward.

All fighters on the card and a production truck were at the arena when news broke that the event was cancelled. Shine CEO Devin Price said he would compensate the fighters who had trained and were prepared to compete, despite a huge financial loss, which was a decent thing to do. Din Thomas was especially whiney and despite being an underachiever in the sport felt that Mayorga's lack of MMA experience would help him win. Also whiney were the MMA fans, especially the e-MMA, who on hundreds of forums bitched and moaned about King.

"The question is, why are fans coming to this match? And the answer is because he is a headline boxer," Gold said from the bench. "Boxing and MMA are in competition with each other the way this fight is taking place." True to every last word, why else is Brock Lesnar's events the only big sellers in the UFC...simple because the WWE made him a star in pro-wrestling before he got into MMA. I say take that MMA and don't mess with THE KING....Don King that is "Only in America."


---


10-30-09



Dave Hojak Reveals Spousal Abuse In Diary Entry
by Alco Howler



Three days after TannerBJJ Rhoden's shocking arrest after appearing on "To Catch A Predator," police have released the content of his ex-hermaphrodite lover's diary. It's known as "Dave Hojak." This entry clearly states spousal abuse more than a year before he allegedly molested his own son.

DATED 06/01/02: I can't believe what Tanner did to me tonight. I have been dating him for 6 months so I thought I knew him, but I saw a side of him that I never imagined. We were parked at make Out hill and we started to kiss. But Tanner was taking it too far and started to reach up my dress. He then started to touch 'it' so I told him to "stop!". He kept going and started to take my cloths off. I screamed "No Tanner Stop!! I'm not ready for this yet!". But he started cussing at me, I pushed him back and used a martial art move I learned at Rape defense class and screamed "NO MEANS NO!" It didn't work, then he slapped me and pinned me on the backseat and continued to tear off my cloths. His slender 150 pound frame was too strong for my girlish body so he easily over powered me. But then he realized what he was doing and he stopped and said he was sorry. He tried to kiss me again but I pushed him away and told him "take me home. Its over." He then started to beg me to stay with him but I told him "take me home NOW!" . He then put his hand on me and told me he was sorry . I then told him that if he didn't take me home that I would scream. He got scared and took me home. My name is Hojak and I've been bitchified.

Ironically, Hojack also posted this same entry on our Anti-Sherdog Forum, which you can read by CLICKING HERE

And to read the entire transcript of the "Dateline" special between Tanner and Chris Hansen CLICK HERE


---


10-13-09



Boxing Star Floyd Mayweather Disses MMA
by Alco Howler



Not the first time that boxing great Floyd "Money" Mayweather has bashed MMA. In 2007 he crashed a UFC press conference to prove MMA was a circus act and a fad. He did so by challenging then UFC Light Heavyweight Champion Chuck Liddell to get into a boxing ring and face an unknown boxer who had a 50-50 record. He was so confident Liddell wouldn't be able to beat that boxer he offered him $1 million if he did win. Liddell declined, but the MMA world was so irked by his actions they comically fired back.

Shortly afterwards UFC President Dana White would make a tactical mistake of telling the Underground Forum on the night of Kelly Pavlik vs Edison Miranda on HBO's World Championship Boxing, which went heads up with a UFC card, to compare for themselves which was better. As soon as Pavlik scored a 6th round knock out of Miranda, the Underground Forum near unanimously voiced to Dana that "it was the best fight ever,"(or translation: boxing was better than the UFC this night) a huge blow to Dana's ego for sure. And then Fox Sports Net, which ran a PRIDE show around then before the UFC imploded it, comically showed a bunch of unknown boxers losing in MMA, as commentators Jay Glazer and Frank Trigg took shots at Mayweather between matches.

Well once again, on the eve of his match with Juan Manuel Marquez, he let CBS Sports know what he tought about MMA and pulled no punches. Mayweather arguably voiced some of the same views Anti-Sherdog's has been voicing for nearly a decade.
CLICK PLAY BELOW TO WATCH HIS INTERVIEW WITH CBS SPORTS






---


10-04-09



SECRET FILES: ANTI-SHERDOG EMBARASSES TANNER RHODEN/DAVID HOJACK
by Alco Howler



This tasty information was withheld for many years because of concerns from Anti-Sherdog himself that all members wouldn't be in unison about the issue. However, he decided to share it on 7/24/02 in the Anti-Sherdog Alliance Forum. Kept out of public eye for way too long I have decided to reveal the thread and replies in it's entirety. I'd just unprivate the forum but I lack that power.

Anti-Sherdog (7/24/02):
THE ULTIMATE ANTI-SHERDOG BOMBSHELL

OK, I was reluctant to share this with everyone at first because I know some of you haven't completely left sherdogs and didn't know how you'd react to it, but I feel the timing is right to tell you all about the biggest bombshell I ever dropped on sherdog.com. Around December 2001, sherdog decided to get his free UBB, paid for by his rich cunts Hojak and Tanner. By doing so Hojak gave mod (maybe admin) power to his boyfriends Carnal, LeiTong, and himself. But I noticed he made a forum just for Pell's alias Madman Willis. Pell registered as Travis Spackman, but he didn't register for GORDIE TORTURE and MADMAN WILLIS yet, I assume he wanted to bring them in slowly so no one would suspect that he registered for them all at once, thus clearly showing them he is the same guy. So I did what any true opportunist would do, I registered for MADMAN WILLIS and GORDIE TORTURE!! I then went to his "Ask Madman" forum and asked Hojak for mod power. Knowing Steve Pell for as unfortunately long as I have, I knew exactly how he role played his aliases and got Madman down perfectly. It was such a stunning performance even Dave Hojaker couldn't tell it was really me The Anti-Sherdog himself!

As soon as I got mod power I began to reek havoc on the Weight Lifting Forums (it was a shame he didn't give me mod power on the whole UBB). Unfortunately his UBB wasn't that big yet so all I got to do was edit a couple of comments and flame the hell out of those sackless shercunts who had been avoiding us (but always talking trash on us at sherdogs). I had a lot of fun editing LeiTong, Carnal, and Hojak's comments, and I really stuck it to that cocksucker Squatdog! I even made all these stupid threads like "What's the best way to jack-off?" and "My penis is 3 inches" just to annoy them off. But I couldn't believe those losers were actually answering them!! And I would personally like to tell Magic Man, that it was me who suggested that he get the Mod power on the UBB, not Steve Pell. It was fun, but I knew this wouldn't last, cause as we know Steve Pell could not jut take it up the ass if he didn't stick it up there himself. So about 3 days later "Travis" came back and told Hojak "I live right next door to the real Madman and he's pretty pissed cause someone stole his name and is using it." I then discovered Hojak could just delete my accounts, which was a shame cause I wanted Pell to never get his precious account back. What was even more stupid was that Pell once told us as Travis, that "he lived too far away from Pell to go there and kick his ass" when he was requesting access to my last ezboard. He also claimed he lived in Canada as Travis, but now he's saying California. This shows that Pell can't even get his fucking stories straight!! Since I already tricked that homo Hojaker, I tried again. Once again I put up an Oscar worthy performance. As GORDIE TORTURE, I made a thread that stated "You idiots that Travis is an imp troll, it's pretty embarrassing when you get tricked that easily!! I actually live next to Madman and he's pissed that you took his account away. Ban this Travis imp and give me mod power!!" I almost got him to do it again!! But there was one thing I didn't realize: since he got banned from our forum he began to act semi-normal, so when Pell decided to get his GORD Y TORTURE on there to stop me, people started to immediately suggest that I wasn't the real Gordie or as we all know Pell. Which was shocking cause I got him down perfectly. One guy even said that I was probably using South Park material (LOL if that's where Pell really got it!) But Hojak couldn't tell and almost fell over in confusion. But then he asked the REAL Gordie, which is once again Pell, to send him a private e-mail on sherdog's ezboard and tell him who the real Pell was. I thought about opening a G 0RDY TORTURE to trick him and beat Pell to it, but I had doubts about whether or not it would work. Then he finally went through with it, and Hojaker banned my Gordie Torture account. But it didn't matter, I got what I wanted. I got Hojak to look like a complete idiot!! And I've pulled off the most monumental Anti-Sherdog moment in history!! I couldn't be any happier.

Now this was funny: later Pell was such an annoying @#%$ that Hojak took away his mod power and deleted the "Ask Madman" forum. But since Hojak is a redneck inbreed, he bought his stories about how "Anti-Sherdog members hacked his password and imped him" claiming he didn't really do all that annoying $hit. Let me tell you all right now it's not true, in fact nothing that Pell had ever said seems to be true!! Another thing, when I was roaming the net looking for a new board after my last ezboard got locked down, I ran into some interesting people who told me that UBB admins can SEE YOUR PASSWORDS!! So I caution you all not to use something that you use frequently the next time you open an account on sherdog's.

Most of the members followed this up with praise for Anti. Some of the more interesting replies were Magic Man From Fairy Land said he'd have played along with Anti if he told him and kagemusha said everyone on sherdog's actually suspected him of doing this. Just sorry I can't unlock the private forums to show you all...I was only given Mod Power and the admin is long gone.


---


12-27-2003



SHOCKING VIDEO OF SHERDOG SOLD ON THE INTERNET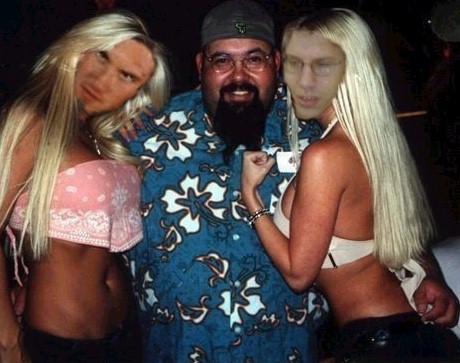 Sherdog, aka Jeff Sherwood, was remodeling his home on November 2003 when he noticed that his safe was missing. Sherwood thought nothing of it at the moment "I thought that it was no big deal all that was in there was a bunch of Rod-mens and Playgirls that I used to get me through lonely nights, but I had stacks of them in my closet as back-up." Apparently he forgot one other thing a 2001 video of him with his favorite guy-pals Tanner Rhoden and Garret Poe. Now a huge male-porn website, which will not be named for legal purposes and nausia, is distributing downloadable videos and purchasable cassette-tapes. Many MMA chatrooms are full of homosexuals and those with other "preferences" and sherdog is outraged about the distribution of this video. "I don't want other men jerking off to my privates and seeing me in action" says a frustrated sherdog. Tanner has long since broken up with sherdog and is currently wanted on child molestation charges and could not be reached for comment. His other partner Garret Poe states "I will not rest until I get this tape back, it was a beautiful thing and they ruined it." Sherwood and Poe have both filed lawsuits against the distributor claiming damages of $1,000,000 (or 2,000,000 hotdogs). The distributor is countering the lawsuit claiming "our right to sell this video is protected by the first amendment of the Constitution of the United States, you can't take away our freedom to see two men go at it like a pair of wild wildebeests."


---


10-28-2003



TANNER RHODEN WANTED FOR CHILD MOLESTATION CHARGES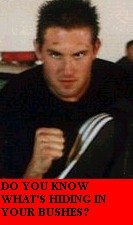 Former sherdog webmaster Tanner Rhoden's fall from "power" has finally hit the bottom of the barrel. Rhoden once was the owner of sherdog.com, committing his family fortune to make sherdog's into a rival for the Underground with the intention of beating Anti-Sherdog's. But he was overthrown by sherdog himself when sherdog finally realized that he was power-hungry and insane. He had previously declared publicly that after being betrayed by sherdog he was hooked on anti-depressants, charged for beating his ex-hermaphrodite lover, charged for stalking Debbie Percell, and unsuccessfully made his own MMA website to get back at sherdog. Tuesday he was charged by his ex-hermaphrodite for molesting it's 5 year-old son. From a statement released by Los Angeles County Police "This is very sad that the child had to go through this traumatic experience and his parent is pleading for anyone with information about his whereabouts to come forward." Angry parents have made numerous posters like the one seen above to help the public recognize this sexual predator. He is mentally unstable and considered very dangerous, but beatable. "Even a 13 year old child could beat him, unfortunately my child was only 5," says his ex-lover who's identity has not been confirmed. If you have any information contact the proper authorities as soon as possible.


---


10-17-2003



AL-QAEDA SIDES WITH SHERDOG;
DECLARES WAR ON ANTI-SHERDOG





In a shocking development Al-Qaeda, furious over defeats against the USA in Afghanistan and Iraq, has declared war on Anti-Sherdog's. Not wanting to risk the lives of their leaders Osama Bin Laden, Saddam Hussein , and the Underground Kremlin leaders, Al-Qaeda has resorted to doing what the e-MMA has always done best: HIDING BEHIND THIER COMPUTER MONITORS. The e-Jihad's slogan has officially been declared "ZUFFA!" But Anti-Sherdog's got the support of United States President George W. Bush who says "I will be damed if those terrorists destroy the Internet!!"
CLICK HERE TO SEE THE SHOCKING VIDEO FOOTAGE!!


---


10-13-2003



CARNAL SALVATION PRODUCES HIS OWN STAR WARS MOVIE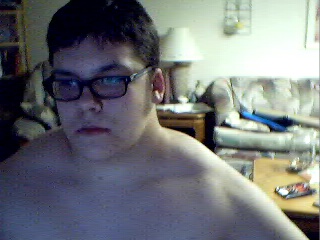 Taylor Wilson, better known as sherkunt Carnal Salvation produced his own movie for his highschool video productions class. He at first turned it in for grades, but then he realized he was an artist and wanted to show it to all his fellow e-MMA pals. Now you can witness for yourself the action, the adventure, the romance, and the uncontrollable laughter of............
CARNAL SALVATION JEDI KNIGHT


---


11-23-2002



STEVE PELL INJURED HORRIBLY!!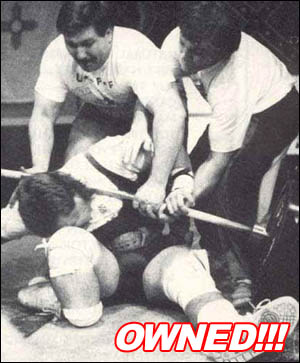 Steve Pell, who also is known as over 1000 aliases, had decided to walk the walk. The e-MMA already knows that he can talk the talk, as aliases Gordie Torture and Madman Willis alone he has filled up numerous messageboards with his infamous "HAHAHAHA's" and "suck my sister mister twister" among many others. Tired of being criticized for his short appearance and high body fat content he decided to enter Ball Park Sausages' Canadian Power-Lifting and Chili Dog Eating Face-Off to silence his many critics. It turned out to be a horrible and tragic mistake as Pell lifted an unbelievable 90 pounds over his head causing his right leg to break in half at the shin. Local trainers and competitors rushed to his rescue, including 20-time champion Arnold Schwarzenneger who was quoted "I never seen such a horrific and pitiful event like this in my lifeÖI don't think he'll be back." Flex Magazine portrayed this tragedy in a less flattering manner; although Steve will be on the front page of their December issue, they wrote the word "OWNED" across his picture. "I think it is justified to say that he was owned, not only by the dumbbell, but by Anti-Sherdog's as well" says UFC veteran Ricco Rodriguez. Doctors have ruled that the injury is beyond repair, ending Steve's dreams of being a true Power-Lifter. "Tell all those doctors that they can suck my sister mister twister. All I need is the juice" quoted a delirious Steve Pell, or we should hope he was. If you would like to send him a get-well greeting or donate money to the Help-Steve Charity Fund contact his daddy immediately.
CLICK HERE TO FIND OUT MORE ABOUT THIS HUMAN SPECIMEN


---